Private Garden - The last Camellia greenhouse near Paris - Sèvres - France
A stone's throw from Paris, in Sèvres, here is the last vestige of the camellia culture dedicated to the production of cut flowers, which were worn in buttonholes. This greenhouse, which was part of a one-hectare farm, was saved from destruction in 1970. It was bought from the Tavenet sisters who operated it until that date. It is 21 metres long and 6 metres wide and houses 50 camellias. They were planted in 1900 when the greenhouse was built. They are in perfect condition. The soil is acidic, which suits them very well. The greenhouse is partially buried because the land is sloping. It naturally benefits from the warmth of its retaining wall and the retaining wall of the house that was built next to it. The greenhouse faces north. The camellias are very sheltered and can withstand both high temperatures and extreme cold. This greenhouse is the subject of an application for classification with the Ministry of Culture.

Published on the occasion of the 15th anniversary of our site in 2020, this page is a tribute to the old camellias and to this very special type of cultivation. It is also located in the Paris region, where I am from. I have traveled all over the world to photograph camellias, so I really enjoyed visiting this amazing and wonderful place, so close to my home.


The camellias are pruned and cared for by the current owner. They remain very beautiful. There are varieties that were suitable for wearing in buttonholes. During their exploitation, the flowering was spread out from the beginning of November to the end of April. So we find old French, Italian and English cultivars. Some are not identified. Others, which have disappeared, have been replaced by more contemporary cultivars.


The ladder and the footbridge, called the "picking path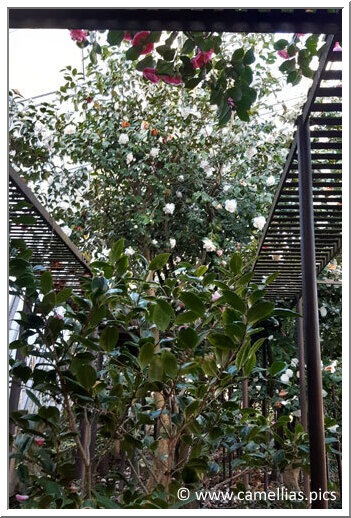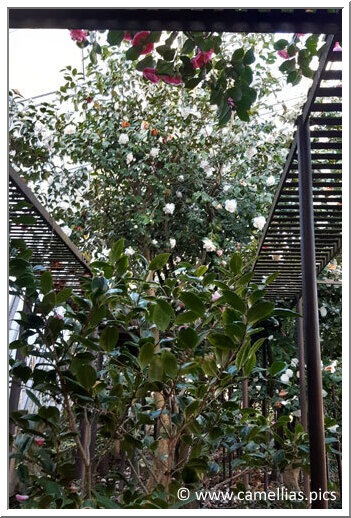 The cut flowers were transported in a wooden box like this one. It measures about 20 cm x 30 cm. The farm is very close to Paris, making deliveries easier. The Tout-Paris loved camellia flowers. The production was also shipped to courts all over Europe.


For many old, unidentified camellias, documents and descriptions are either missing or unreliable.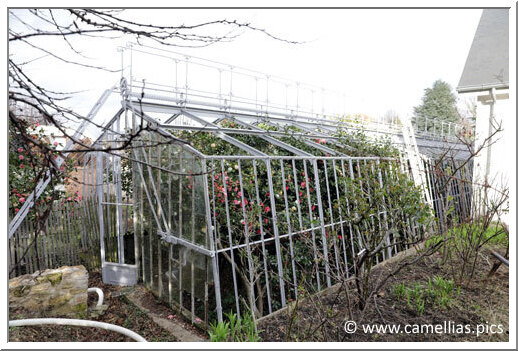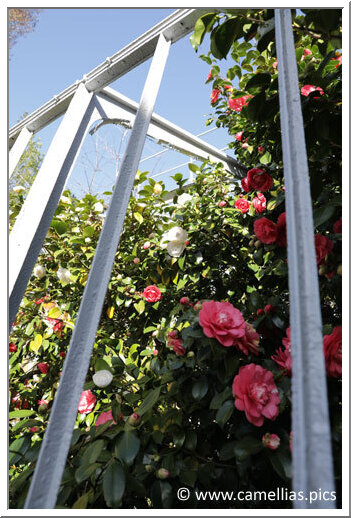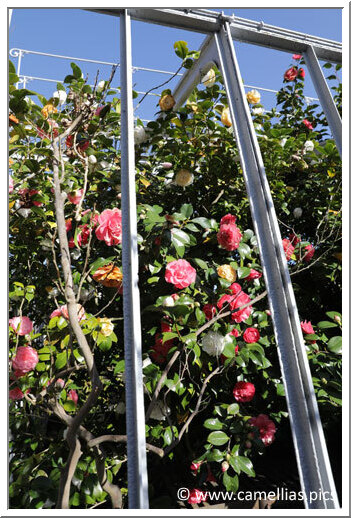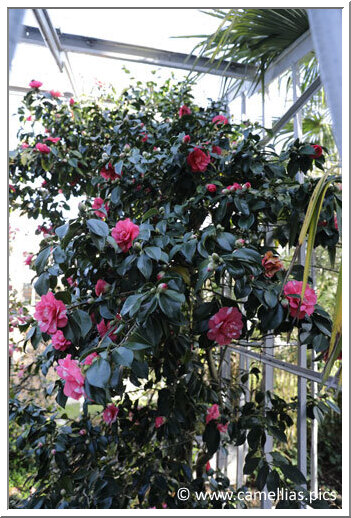 In the rest of the garden, we discover other camellias planted more recently by the buyers of the greenhouse. This 'Dr Tinsley' is at the entrance of the property to welcome us.